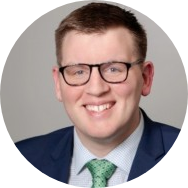 Tim Gould
Protégé Finalist
"You can get a pretty good look at a T-bone…….."
I was born and raised in Bloomington, Illinois, a community of about 100,000 located halfway between Chicago and St. Louis. My parents owned an ad agency there, and I have two older brothers and a younger sister. I was a multi-sport athlete in high school, and played basketball in college.
My degree is in Broadcast Journalism from the University of South Alabama in Mobile. But my experience prior to entering the insurance industry was coaching basketball at the high school, collegiate and semi-professional levels. And then in the hospitality industry, specifically a fine-dining restaurant on the Alabama Gulf Coast, where I learned how important the customer experience is, making every guest feel important every time.
Tim's Protégé Video Application
In 2016 I married my wife Miranda, who is a travel nurse in the healthcare industry. Because of that, we've been fortunate to live in different parts of the country, such as Denver, where I began my insurance career in a State Farm office, Roanoke, Virginia where I first learned about the independent insurance channel and commercial insurance working for Steve Holley and Holley Insurance, and now here in Atlanta, Georgia. 
Miranda and I have two dogs, Makita and Lucca, that take a lot of our time.
I play golf when the weather and time permits, and I love sports. I think I love watching sports even more than I enjoyed playing or coaching. As an Illinois native, I have a love-hate relationship with the Chicago Cubs, Bears, Bulls, Blackhawks and the University of Illinois Fighting Illini.
I never thought I would choose insurance as a career, but I always knew I wanted to do something that would help people. Individuals, families and businesses need a trusted advisor to help them solve their insurance and risk management problems. And I love being the guy who can do that for them.